My girlfriend and I recently got back from a spring break trip to Disney World. She's from the west coast and had been to Disneyland many times, but I wondered if she would have any interest in seeing the colossus that is Disney World. Half joking (but also secretly enthusiastic about the idea), I asked her back in November if she'd want to meet Mickey and Minnie in Orlando. She was 100% on board, so the half joking idea became a dead serious plan.
I think in many ways I'm still very much a kid at heart. Hell, all throughout grad school I'd start my mornings eating breakfast while I watched Rugrats (which I genuinely maintain is a more productive use of time than watching the news). That being said, and despite liking Disney and Pixar movies quite a bit, I wasn't 100% sure that we'd have a good time as unencumbered (read: child-less) adults.
Let's face it, there are plenty of things that suck about going to a Disney theme park: the cost of an admission ticket (over $100), screaming children, standing in long lines in the hot sun, crappy, overpriced food, screaming children, and screaming children. Even though my girlfriend and I travel quite well together, who's to say this experience wouldn't end with us not being on speaking terms?
Despite our reservations, we decided to give it a shot, and I can honestly say that, even considering the downsides mentioned above, we had a great time. I thought I'd offer some general observations about the experience itself, and then give a run-down of the things we did during our week in Orlando that we particularly enjoyed. But first:
TL;DR - Top tips for visiting Disney World as an adult
Alternate between theme park days and off days if you have the time.
Instead of renting a car, use Uber to get around, especially if you're staying near the theme parks, but off-resort.
Download the My Disney Experience mobile app to see wait times at various park attractions in real-time, and plan accordingly.
Book any dining reservations well over 3 months in advance. Do the same with your FastPass+ selections.
Don't overlook the non-ride attractions --the 3D movies and live stage shows at the various parks were genuinely entertaining, and give you a chance to get off your feet.
Take a camelbak and fill it with ice from your hotel room, trust me.
Thoughts on Disney
No matter what you think about Disney as a company, you have to admit, the things they choose to do they do very well. Disney doesn't half-ass things, and they shouldn't given what they charge for admission. My friends like to say I'm frugal (well, actually, a cheap-ass), and I have to concede they have a point. In light of this, I made a conscious decision to not worry about money while we were there. That didn't mean that I was going to spend money carelessly, but rather that I was going to accept the fact that, from the moment you buy a ticket until well after you've left the parks, Disney is trying to squeeze every penny out of you they can. I could let the commercialism-on-steroids that is "Disney the company" ruin my trip, or just deal with it and focus on "Disney the people who tell great stories that were a big part of my childhood". I'm glad I chose the latter.
As an engineer, I give Disney props for injecting a great deal of technology into the theme park experience. Entry to the parks is now entirely paperless -- guests use RFID chips embedded in hotel room key-esque cards or bracelets ("MagicBands") along with a fingerprint scanner to get in. The cynical side of me sees the fingerprint scanner for what it is: a way for Disney to keep you from transferring a partially used entry ticket to someone else (say, if you only used 3 days of a 5 day pass). But there are some definite upsides to this RFID-based system as well. Your RFID card or bracelet can be linked to a disney.com account, which makes it easy to replace if it were lost or stolen. It is also scanned throughout the park to link photos taken on rides or by roving photographers to your account, and to gain entry to rides/attractions using FastPass+, which I thought was a very clever virtual queueing system in which you reserve an hour-long time window to visit a popular attraction and skip the line altogether (of course, you're limited in the number of times you can do this).
The technology goes beyond the RFID ticketing system. Disney keeps track of the wait times at all of their attractions. If you download an app to your phone, you can view these wait times in real-time, which my girlfriend and I found to be invaluable in prioritizing what we did at the parks. Their audio-animatronics are now eerily good, and are another way that they've found to entertain guests while they wait in line. I also noticed that they offer interactive games at some of the more popular attractions that you can play while you wait in line. I really wish other theme parks would follow suit...
Highlights from the trip
Day 1 - Arrival
Our first day in Orlando was mostly eaten up traveling and checking in to the (non-Disney) hotel. We thought about renting a car while we were there, but decided to use Uber instead. This ended up being a great decision. Uber drivers were everywhere, fares were cheap, we didn't have to pay for parking anywhere, and we always got picked up or dropped off right at the entrance -- no walking through miles of parking lots for us!
In the evening we went to the Disney Boardwalk. I actually really liked this area. It's pretty, nostalgic, and perhaps the least in-your-face Disney experience you'll find. We walked around the lake, took a little boat ride, grabbed sandwiches from a little bakery that was hilariously mismanaged, checked out a mostly Disney-themed art gallery, and watched the sunset. It was a nice, chill way to start the vacation.
Day 2 - Epcot
Day 2 was our first theme park day: Epcot. As it happens, Epcot was having a "Flower and Garden Festival" while we were there, which seemed to be reflected in some of the temporary exhibits they had set up, including a butterfly garden, a number of topiaries, and an urban garden that included an aquaculture setup. My favorite attractions here were Spaceship Earth (a classic), Turtle Talk with Crush (an interactive Q&A with an animated turtle from Finding Nemo), Test Track (you "design" a concept car and then take it for a spin), and a Disney/Pixar 3D short film festival (featuring Steamboat Mickey, La Luna, and Birds on a Wire).
For lunch, we headed to the Mexican pavilion in the World Showcase area, where we had a wildly overpriced sad little quesadilla, followed by some pretty decent empanadas and chips + guac. Dinner was at Restaurant Marrakesh (we'd made reservations well in advance) and it was super tasty. We're both vegetarians, so we had a sampler of Mediterranean salads, and a vegetable couscous tagine
Day 3 - Lounging and Disney Springs
In planning the trip we decided to alternate between theme park days and "recovery days". This was probably our smartest decision of the entire trip. We spent Day 3 lounging by our hotel pool and checking out Disney Springs, which used to be called Downtown Disney. It's a giant tourist trap, even by Disney standards, and neither of us was very impressed with its collection of overpriced shops and restaurants.
Day 4 - Magic Kingdom
Day 4 was the day my girlfriend was most looking forward to: Magic Kingdom. I was expecting it to be a complete clusterf*ck, and given that it was spring break, I wasn't disappointed. Despite the crowds, we managed to have a great time. My favorite attractions (in the order we did them) were Buzz Lightyear's Space Ranger Spin (a ride in which you control which direction your spaceship faces while you shoot a laser gun at enemies and rack up points -- very interactive and very fun), the Swiss Family Treehouse, Space Mountain (still a great roller coaster, although I liked it better when it wasn't completely in the dark), Pirates of the Caribbean, Monster's Inc. Laugh Floor (an interactive, animated, stand-up comedy show that, despite the G-rated nature of the humor, was pretty funny), and Mickey's Philharmagic (a 3D movie that featured Donald Duck).
For lunch we had made reservations at the Crystal Palace. It was a buffet that had some good salads and desserts, and gave us the chance to meet Tigger, Piglet, and of course Winnie the Pooh (a childhood favorite of mine). For dinner, we ate at the Be Our Guest restaurant, and it was probably one of the best dining experiences of the trip. The restaurant is modeled off of the ballroom in Beauty and the Beast, and the ambiance is so nice you actually forget you're in a Disney park. Their attention to detail is impressive, and goes down to the level of napkins folded to look like roses, "snow" that falls continuously outside of the windows that let you gaze on mountainous scenery, and menu items lifted straight out of the movie. The food, by the way, was delicious. We had a seasonal salad trio (watermelon, beet, and green bean salads), potato and leek soup that was phenomenal, and a vegetable ratatouille. I highly recommend checking this restaurant out; the look on my girlfriend's face was priceless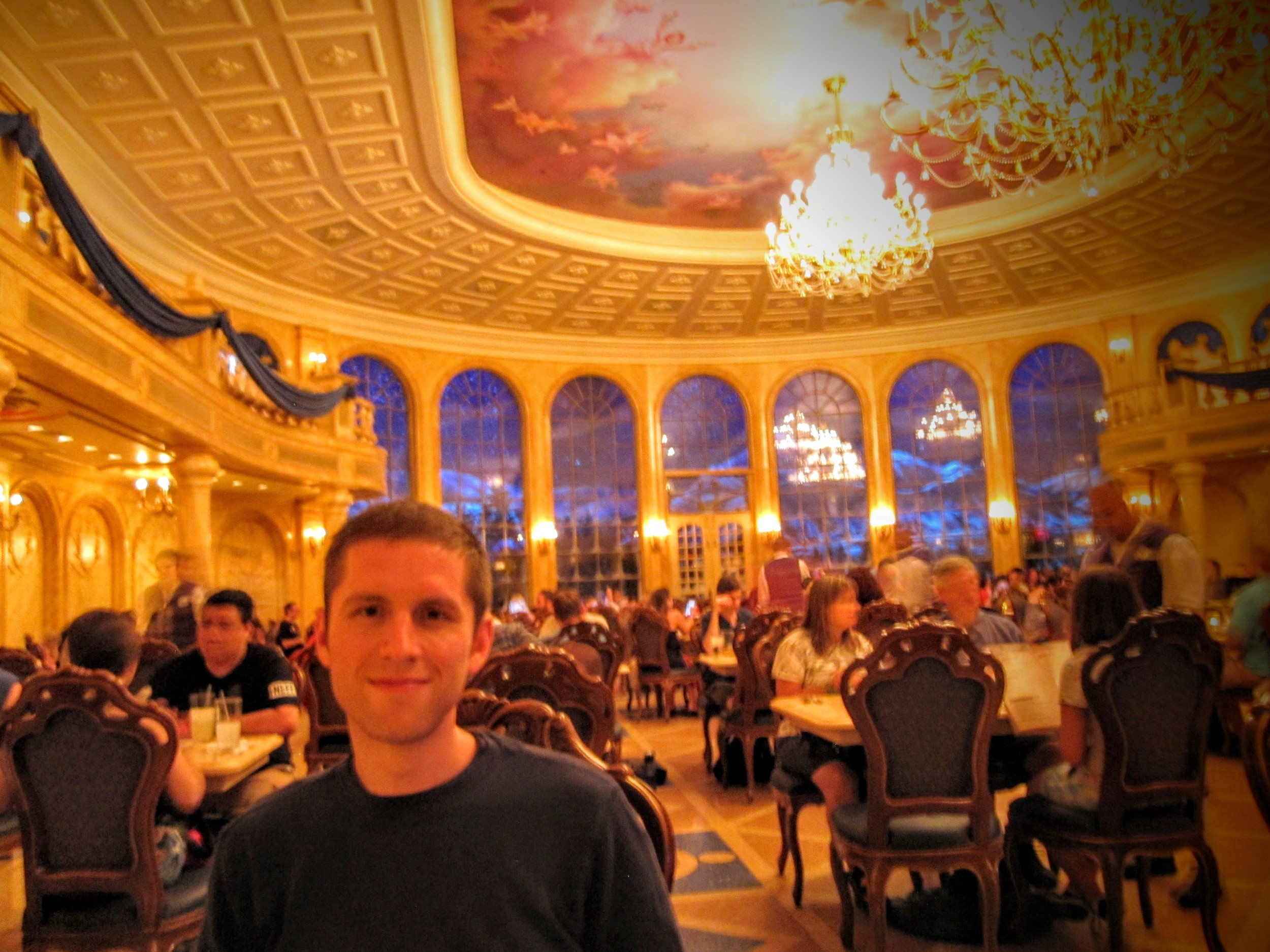 Day 5 - More Lounging and Tea at the Grand Floridian
Day 5 was another recovery day for us, which meant more lounging by the pool. I'd also planned another special treat for my girlfriend: afternoon tea at the Grand Floridian. This ended up being a lot of fun. We got dressed up and enjoyed a formal tea complete with a whole host of appetizers, sandwiches, tea cakes, and desserts.
The eggs you see in the pictures below were made entirely of chocolate, and were decorated by Disney pastry chefs as a part of the Grand Floridian's Easter-related festivities. The level of detail and creativity that went into some of them was astonishing, and the photos don't do them justice.
Day 6 - Animal Kingdom
Day 6 was our last day of vacation, and we spent it at Animal Kingdom. I feel like this might be one of the more underrated Disney parks, but that worked to our advantage. Lines were generally shorter than at the other parks, and crowds were sparser. This is despite the fact that the park actually has a tremendous amount of really great attractions. The Expedition Everest roller coaster (which I kept inadvertently referring to as Yeti Mountain) is the most expensive roller coaster ever built to-date in the entire world, and it shows. We rode it multiple times and managed to get lucky by avoiding the worst of the lines using a FastPass+ reservation and periodically checking the wait time throughout the day. We also went on a driving safari and walking tour that showed off the zoo side of Animal Kingdom, caught Finding Nemo -- The Musical (which was incredibly good for a theme park live show; it rivaled the touring Lion King Broadway show for the creativity of the character costumes), watched the antics of some very entertaining gibbons, snagged a photo with Mickey and Minnie, and watched another live show: Festival of the Lion King.
For dinner, we headed back to Disney's Boardwalk, and ate at Trattoria al Forno. The food was exceptional, upscale Italian, and a nice way to cap off the trip.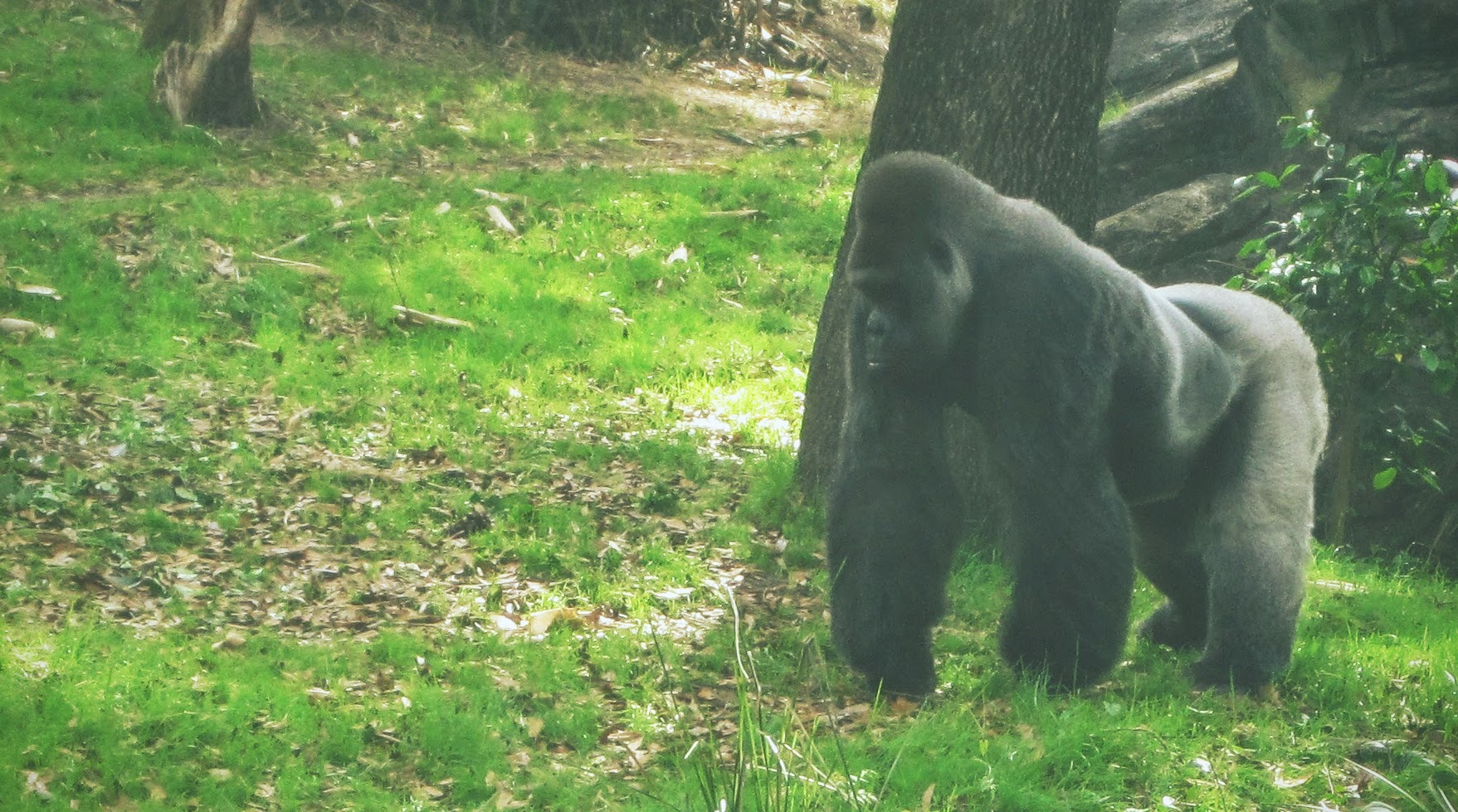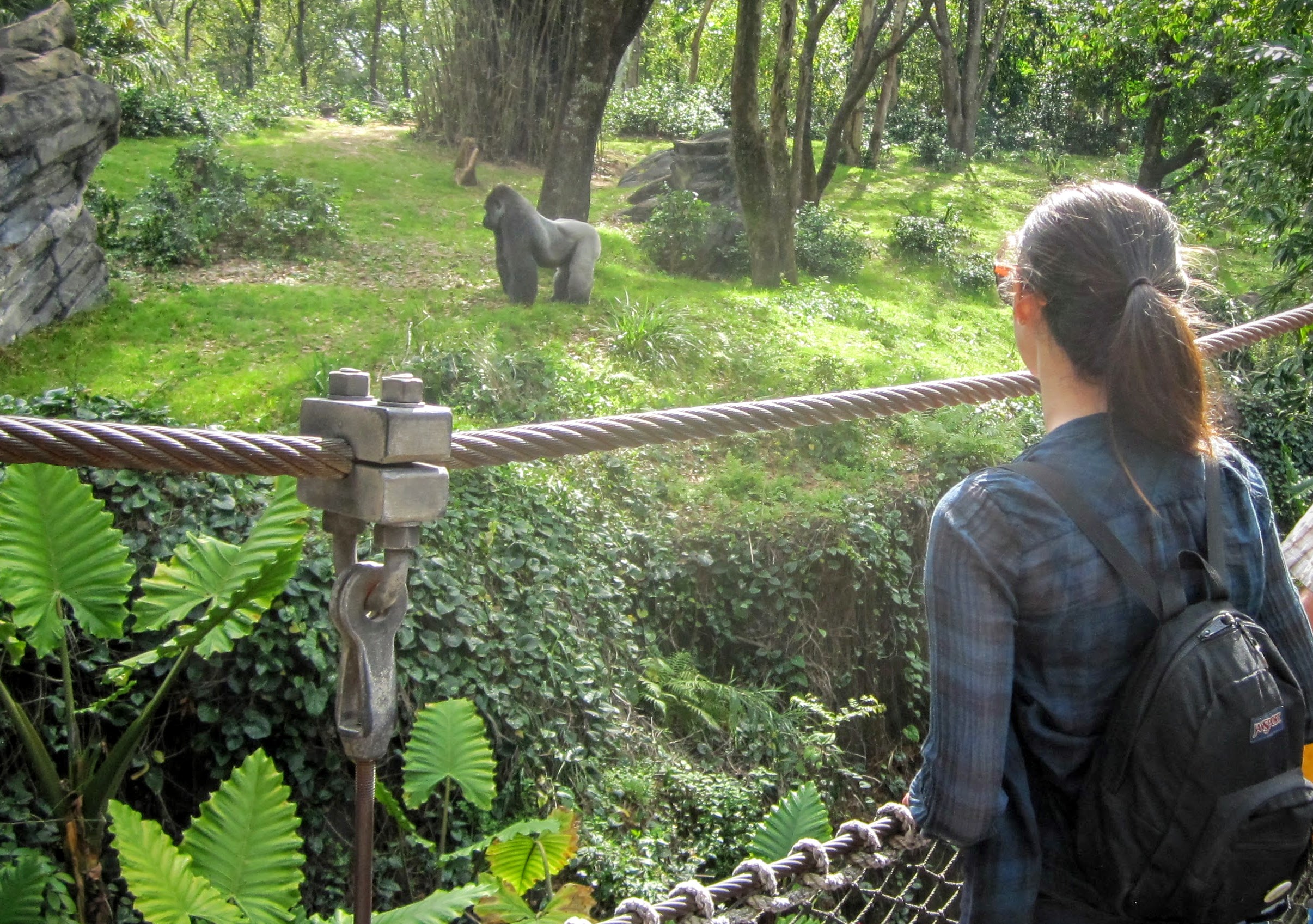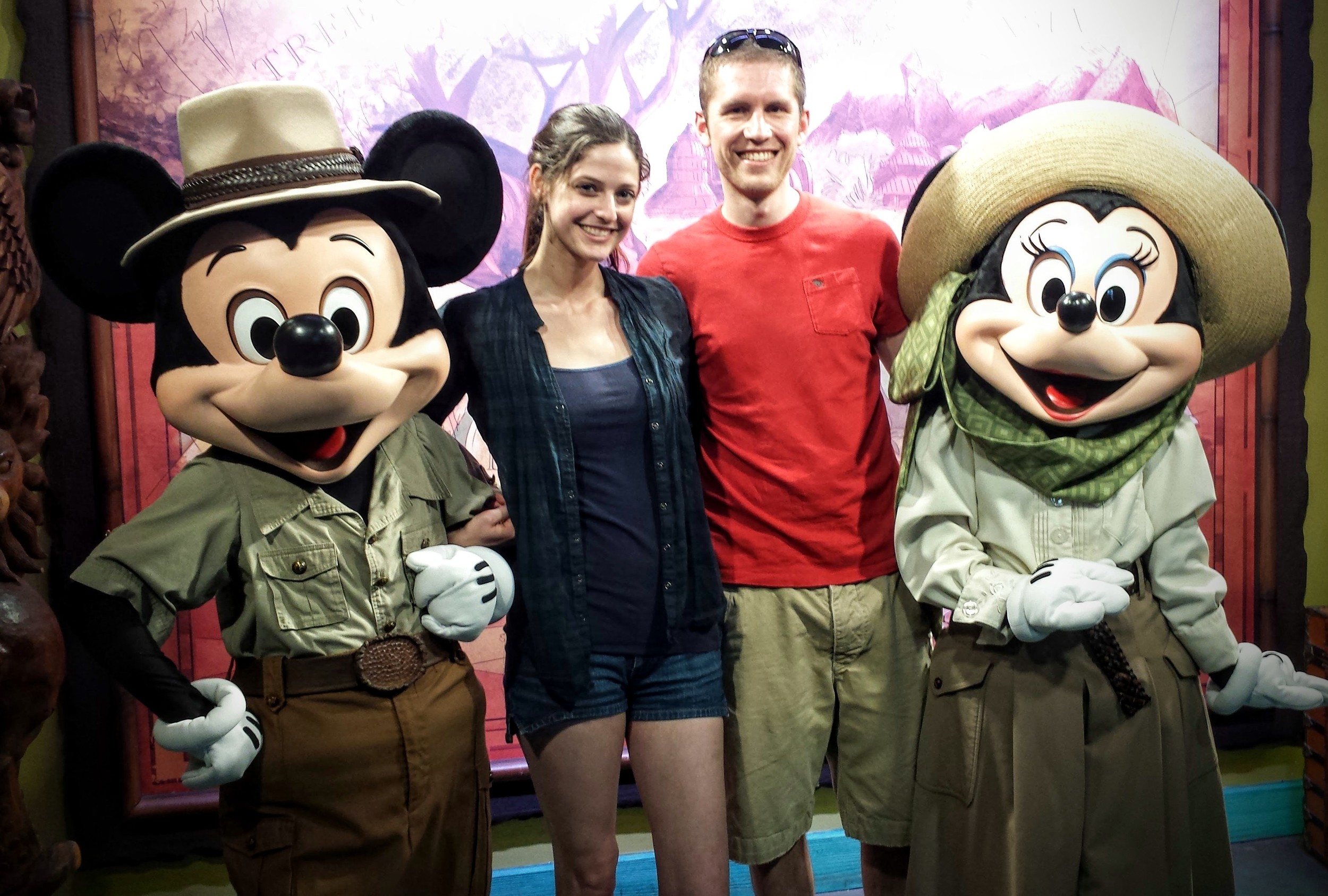 Conclusion
Yes, it is possible to have a good time at Disney World as an adult without children. In fact, it might even be preferable to going as a kid or with a family. We witnessed plenty of temper tantrums around us (kids and adults), but never experienced any ourselves. We were able to do things at our pace (I'm making it sound like we're old, but you try walking around for 10 hours in the Florida sun), enjoy some more adult-oriented activities like fine dining, and take advantage of some actual downtime. All in all, I would definitely consider doing a Disney World vacation again if there weren't so many other travel destinations I want to check off my list...